Benefits of Diamond and Jewelry RFID
TracTech helps you put your financial and workforce resources to more effective use. The benefits are clear: TracTech saves money, saves time, and increases control over valuable inventory. The process of managing, maintaining and tracking inventory can be a time-consuming, labor-intensive process, one that can leave room for error and unaccounted for inventory… until now.
TracTech, developed in close partnership with industry leaders, brings unparalleled speed, accuracy and control to inventory management. The first product of its kind designed specifically for the jewelry and diamond industries, this revolutionary inventory tracking system offers consistent, accurate results in a fraction of the time. Compatible with most existing software systems and hardware, TracTech can be fully integrated into your existing system and set up to provide detailed and customized reports.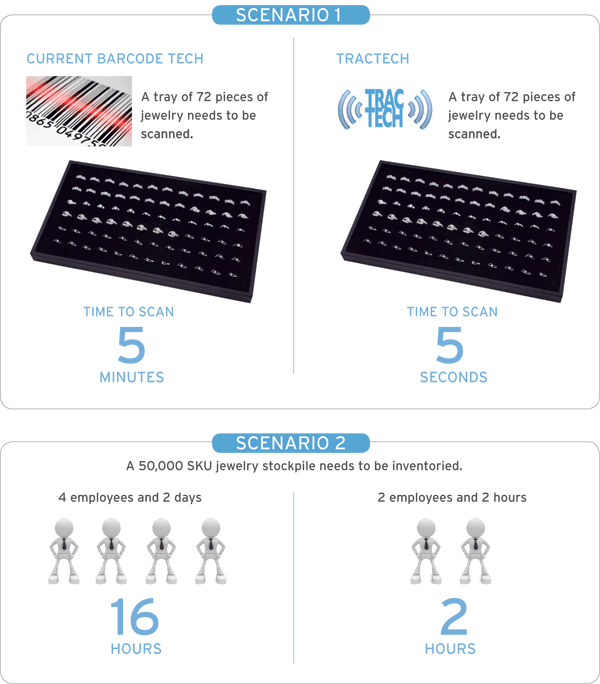 Save Time
Innovative technology eliminates the manual processes that consume precious staff hours. A physical count can be performed in minutes not days! And, TracTech's powerful technology enables you to track items by item history thereby reducing time spent on recovering missing inventory.
Save Money
TracTech System is the only Jewelry Inventory management product that provides a substantial cost savings by removing the need for a staff-intensive hand count; one person and TracTech is all it takes.
Increase Accuracy and Control
The TracTech system reduces costly errors and increases the accountability of inventory throughout the system making inventory management efficient, accurate and fast. From inventory to billing to shipping, TracTech keeps you in control.
TracTech Capabilities
And More! 
Scan items quickly as they move from person to person by simply placing the items along with tagged employee badge in the reader.
Capability of reporting unique history of transactions for each item, allowing for quicker resolution of missing items.
Use prefix digits in ID to identify different tag/label types. For example: use prefix 1 to signify a PO label, prefix 2 for jewelry tags, prefix 3 for poly-bag labels, etc. This will offer you greater control when assigning functions to tags and allow for easier filtering.
See TracTech in Action – Schedule a Demonstration
By eliminating potential losses and streamlining the inventory process, TracTech Systems provides a significant return on investment.  Still not convinced? Or just want to witness the power of TracTech Systems in person?  Schedule a free demonstration right now by using the contact form below and we will be contacting you within 48 hours.
Click Here